Welcome to Reel Action Sport Fishing Charters!
Charter Fishing Door County Wisconsin for Salmon, Trout, Bass and Walleye
on Lake Michigan in Green Bay and Sturgeon Bay Wisconsin
48' and 41' Viking Charter Fishing Boats
Door Counties Largest Sport-Fishing Charter and the TOP fish catching TEAM in Door County!
Reel Action Fishing Charters represent the best


that the Great Lakes have to offer!
We put the fish to bed each night and wake them up every morning!
Reel Action Charters Inc. marks it 19th season guiding fisherman for Salmon, Trout, Walleye, Smallmouth, and Musky. Reel Action Charters was founded in 1995 we have worked hard to re-invest in the company to provide the best experience possible. Our 8 captains represent the most experienced TEAM in Door County!
The Reel Action Charter Fishing Team has developed into the largest charter fishing operation, our 8 captains fish the Sturgeon Bay, Green Bay and the Door County areas of Wisconsin, with one of the most diverse teams of charter fishing captains on Lake Michigan. We target both Green Bay and Lake Michigan, which provide some of the best fishing in North America!
This team includes, my uncle, Captain Randy who is a tournament-winning captain and started fishing Lake Michigan in the mid-60s. I cut-my-teeth fishing Green Bay, Sturgeon Bay, Door County and Lake Michigan since the 80's and founded the business in 1995. My older brother, Captain Jeff, has been fishing alongside me and running Reel Action charter fishing boats since the start.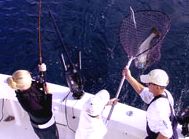 As a fishing industy leader, Reel Action Charters teams two licensed/experienced captains on almost all of our outings. We do not know of any Lake Michigan charter fishing business that offer this level of experience to ensure that your trip is safe, comfortable and successful.
We are on the water almost every day all summer, and our captains truly work as a team. There's no better insurance policy than investing your fishing entertainment dollars in Reel Action Lake Michigan Fishing Charters. From the fishing gear, to the boats, to the people, to trophy size salmon and trout in the cooler and lifelong memories of a great charter fishing trip, we trust that you'll find we represent the best salmon and trout fishing that Lake Michigan has to offer. (read testimonials here)
"Click Here" to view our newest charter fishing videos...
"Click Here" to view our new charter fishing boats...
Why Sturgeon Bay and Door County, Wisconsin is the best place to fish Lake Michigan!
The Wiscosnin STATE record King Salmon was
caught fishing the Bank Reef in Sturgeon Bay!

Sturgeon Bay provides the most consistent catches of king salmon among all major ports anywhere on Lake Michigan. In fact, according to WDNR statistics, captains fishing the Bank Reef off Sturgeon Bay catch more king salmon per hour than any other major port in Wisconsin. When fishing gets slow for captains from Algoma and Bailey's Harbor, many of them will run hours from their home ports to fish Sturgeon Bay, while Sturgeon Bay captains run only four miles to the famed Bank Reef.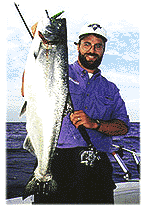 Come and join us for your next charter fishing adventure! At Reel Action Sportfishing Charters, we guarantee that you'll catch fish!
"Lake Michigan is back! While fishing with Reel Action Fishing Charters we had incredible action on salmon and trout. In fact, the show we filmed there for "North American Outdoors" on ESPN was one the of highest rated episodes ever!"

Steve Pennaz, Editor
North American Fisherman Magazine
"Click Here" to view the video!
What are you waiting for? Book a trip today!
Ask about our corporate outings!
Our larest is over 90 people!
CALL FOR INDIVIDUAL CHARTER PRICES!!!!!
START AT LESS THAN $100 PER PERSON!!!!!!!
(All rates based on 6 people)

Captain Scott Gutschow cut-his-teeth fishing Green Bay for walleye, bass and musky.
Click on the photo below to read more!

Visit our site dedicated to fishing Green Bay! Click on the photo above!
Reel Action Charters is the 1st to provide BIG boat comfort on Green Bay!
Heat and an enclosed cabin for early spring and late fall fishing!
CLICK ON THE BOAT TO READ MORE!

We accept VISA and MASTERCARD!