You'll Never Regret Fishing With the Best
Reel Action Charters fishes Door County, Wisconsin for Salmon, Trout, Bass and Walleye on Lake Michigan from Green Bay and Sturgeon Bay, Wisconsin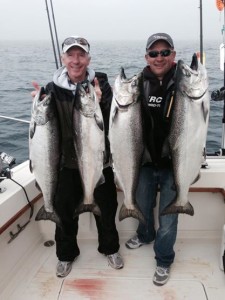 When you're considering a chartered fishing trip, what are you really after? Of course, we all want to put a bunch of salmon in the cooler; or catch, photograph, and release the trophy walleye, bass and muskie of a lifetime. Yet we also know there's much more to it than that. After all, no matter with whom you choose to charter, limits and lifetime trophies don't happen every time you go fishing – yet you're always dreaming of the next trip. So the deeper desire must be something more.
Whether you're booking for a group of hardcore veteran anglers, an annual family gathering, or an event to entertain business clients, the real pursuit is the collection of memories. You want to share a day you'll all fondly remember for the rest of your lives. Fishing with the Reel Action team – whom we humbly consider the best on Lake Michigan – ensures you'll be collecting the very best memories, bar none.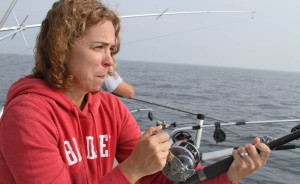 Yes, fishing with the best costs a little more, but it's undeniably worth it. When the boat is tied up back at the dock and the guests are smiling. While coolers of fillets are stowed into your cars for the trip home. And especially months or years later when you're looking at the photos you took or the videos you shot aboard a Reel Action boat, you won't remember the few extra dollars you paid to fish with the best. Yet it's guaranteed, if you book an "econo-charter," on a cramped, dirty, decrepit boat, with a chain-smoking captain and a mate who asks you how to rig the tackle. When the cheap gear breaks off more fish than you land, you'll forever remember — to the penny — what that trip cost you.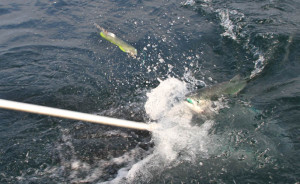 If you choose to fish with the best, here's our promise –
We will host you on the very best, cleanest, most meticulously maintained charter fleet on the Great Lakes. You'll travel safely and comfortably assisted by the finest, most up-to-date navigational, safety, and fish-finding technology available. You'll fish with a highly experienced captain who is working as part of the Reel Action Team to find biting fish and help you catch them. The crew on each Lake Michigan charter includes a mate who is either a licensed captain or has years of experience working for the success, safety, and enjoyment of charter anglers. We will spare no expense to provide you the highest quality tackle in top condition. Finally, whether the trip turns out to be a "glory" day, an "average" day, or a "tough bite" the entire Reel Action Team will make every effort possible to provide you and your guests wonderful memories to last a lifetime.
When you fish with the best, you'll conclude your charter feeling you can't wait to join us again. Anything less, and you may simply wind up feeling you can't wait to get off the boat!
Experience the reasons we believe Reel Action Charters offers the best service on Lake Michigan. Better yet, call Capt. Scott Gutschow at 920-360-2136 and book a trip to find out for yourself. We promise, you'll never regret fishing with the best!