Reel Action Frequently Asked Questions (FAQs)
We want to answer all of your Frequently Asked Questions (FAQs) about charter fishing aboard Reel Action on Lake Michigan from Sturgeon Bay and on Green Bay from Green Bay, Wisconsin.  If you don't find answers to all your questions among those here, please contact Capt. Scott Gutschow at 920-360-2136 and ask away!
Preparation
What do we need to bring?
Reel Action provides all the premium, meticulously maintained tackle and equipment you'll need to catch fish.  However, there are a few items that you'll want to bring with you for your trip:
Fishing license

Food

Beverages

Sunglasses

Hat with brim

Phone/Camera

Rain gear

GoPro

Medications

Sunscreen
Licenses
What fishing license will I need?
If you are a Wisconsin resident and have a Wisconsin resident license you will need to add a Great Lakes Salmon and Trout Stamp to your fishing license. (Cost is $10.00) If you don't have a Wisconsin license or are a non-resident you can get a 2-day license which includes salmon and trout. (Cost is $14.00)
Where can I get a fishing license?
All sporting goods and bait and tackle stores have both resident and non-resident licenses available, as do many convenience stores in the area. You can also acquire your Wisconsin fishing license from the Department of Natural Resources at this link: Wisconsin DNR Fishing Licenses. Click on the shopping cart adjacent to the appropriate license. However, be sure you have access to a printer when you purchase online, as you are required to have a printed copy of your license in your possession while you are fishing and transporting your catch. You can also purchase by phone. Call: (877) 945-4236. You will pay an additional $1 convenience fee, but this is fast, easy, and convenient.
Reel Action Charters does not sell licenses.
Locations/Directions
Where do we meet Reel Action Charters for Lake Michigan salmon and trout fishing?
All Reel Action Charters on Lake Michigan depart from and return to the Quarter Deck Marina at Skipper Buds at 705 Quarterdeck Lane, Sturgeon Bay, Wisconsin. When you pull into the parking lot, continue all the way to the west end of the drive, behind Skipper Bud's building. The Reel Action boats are closest to shore on the western most dock.
How do I get to the Quarter Deck at Skipper Buds in Sturgeon Bay?
Follow the directions at this link: Skipper Buds.  
Where do we meet Reel Action Charters for Green Bay Erie-style walleye fishing?
The 41-foot Viking will be located at the mouth of the Fox River at the South Bay Marina at 101 Bay Beach Road, in Green Bay, Wisconsin for the month of May. You can get directions at this link: South Bay Marina.  This is the best possible access point to outstanding southern basin walleye fishing! It's just a short, fast trip to the prime fishing no matter what the weather!
Where do we meet Reel Action Charters for guided walleye, bass, pike, and muskie fishing on Green Bay?
During the majority of the guiding season on Green Bay, we like to stay nimble. Depending on where the bite is the hottest, we'll meet you at various launch locations as far south as Green Bay to as far north as Fish Creek in Door County, but often Sturgeon Bay is our starting location. We'll keep you apprised of the hottest locations within 24 hours of your trip.
Fishing Times
What time do the charters leave?
We make both morning and afternoon trips. There is some flexibility in starting times based on the time of year, the weather, and the needs of your party. We will discuss these as we plan your trip, and confirm within 24 hours of the planned trip.
How long will we be out fishing?
Lake Michigan fishing for trout and salmon are as long as six hours, but are often shortened by limits of fish in the boat. Guided fishing trips on Green Bay are based on five-hour trips, but you can extend your trip at an hourly rate if you choose.
Handling/Prepping the Catch
How will the salmon and trout I catch be handled?
Because fish caught while trolling and from depth on Lake Michigan have a low survival rate when released, and because these fish do not reproduce naturally to any appreciable extent, Reel Action keeps all salmon and trout (other than the rare lake trout) landed regardless of size. Your catch will be either filleted or headed/gutted by the mate at your request and bulk bagged. We apologize, but because of state regulations covering your daily and possession limits, we cannot skin or steak your fish.
How will the walleye I catch be handled?
Walleye caught aboard the 41-foot Viking from Green Bay during the May trips will he handled just as the trout and salmon caught aboard Reel Action charters on Lake Michigan. They will be filleted and bulk bagged by the mate at the stern of the boat during the return trip to South Bay Marina as part of the service of your charter package.
Walleyes kept during the Reel Action guided trips on Green Bay during the rest of the season can be cleaned and bagged for you back at the landing by pre-arrangement and for an additional fee. Or you may take the whole fish to process yourself. If you choose this option, be sure to bring coolers that can handle a limit of five BIG walleyes for each angler!
How will the muskies and bass I catch be handled?
Reel Action encourages you to catch and release all bass and muskie caught on your trip. However, we will meet your requests for keeping fish for eating or taxidermy within the Wisconsin fishing regulations for Green Bay at the time of your trip.
Should we tip the captain and crew? How much?
Tipping the captain and crew is customary and sincerely appreciated. Tips generally run about $20 to $25 per person aboard – so from $120 – $150 for a full boat of six anglers on Lake Michigan or $80 – $100 for guided trips on Green Bay.
What's the best way to transport my fish home from my trip with Reel Action?
Bring along quality, hard-side coolers if you will need to keep your fish cold more than an hour or two before you can repackage and freeze them. Better than bags of ice that will melt and leak to have the water find its way into contact with the fillets, freeze up a bunch of individual 16-ounce water bottles and keep them in the cooler while you're fishing. When you arrive back at your car, place your bags of fish in the cooler, interspersed with the frozen water bottles. The more the better! Fill the cooler if you can. Then once you've filled and closed the cooler, keep it closed until you're ready to individually package the fish/fillets and freeze them. In a good cooler, this will keep your fish in prime condition for several days.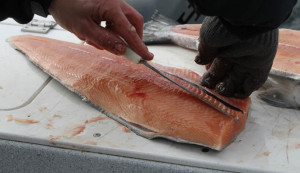 What's the best way to store the fish for long term?
Keep the fillets cold and not soaking in water, but do not freeze them before you break them down into meal-sized packages. The best method for freezing more than a 2-3 weeks is to individually vacuum package fillets. However, if you intend to smoke the fish, you can bulk freeze them until you thaw for preparation, then individually vacuum package the smoked fillets and refreeze. Vacuum packaged, frozen fillets can be kept for up to a year in proper conditions.
What's the best way to prepare the fish we catch?
The Reel Action team has its own favorite recipes for salmon, trout, walleye, perch and whitefish, and we've learned many new ones from our customers over the years.  This website's  "Reel Action Recipes" page shares a number of them!
Safety & Details
What are the safety procedures on the boat?
Every boat in the Reel Action fleet is fully equipped for your safety. At the most basic level, we have appropriate personal floatation devices for everyone on board as well as throwable devices and fire extinguishers. Each boat is thoroughly inspected by the U.S. Coast Guard each season. When you and your party come on board, you're captain will go through the complete checklist of safety gear and procedures with you.
What does Reel Action recommend to combat motion sickness on the boat?
The over-the-counter medication meclizine (sold as Bonine, Antivert, Dramamine) can be an effective preventive measure for short trips or for mild cases of motion sickness. Your doctor may choose to prescribe medications for longer trips or if you repeatedly develop severe motion sickness. One example of a prescription medication is a patch containing scopolamine (sold as Transderm-Scop) that often is effective in preventing motion sickness. Remember,  scopolamine can cause drowsiness and has other side effects, so and its use should be discussed with your physician prior to your trip. It also helps to be well rested prior to your trip. Make sure to stay well-hydrated before and during your trip, as well. The best beverage to bring aboard, if you're prone to motion sickness, is just plain old water!
How should we dress?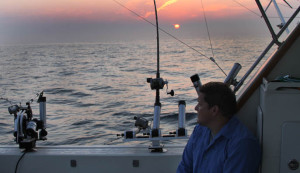 We ask that you wear soft-soled shoes like deck shoes or tennis shoes with clean, light-colored bottoms. No hunting boots or hiking boots, please. Weather is changeable on the water, and it's always cooler near the Big Lake, especially in the morning. Feel free to bring along whatever will make you comfortable. There's plenty of room for a gym bag or small backpack with extra clothes and rain gear.
Will we have a cell signal and text messaging while we are out fishing?
You can expect good cell coverage while out of the boats on either Green Bay or Lake Michigan. Cell towers work on "line of sight," and there are no mountains, trees, or hills to get in the way when we're out in the boats. If you call us during daylight hours in May through September, chances are pretty high that Captain Scott will be talking to you from the bridge or deck of one of the boats! We would welcome you posting to Facebook, Tweeting, and uploading photos of your adventure to Instagram right from the boat if you'd like to!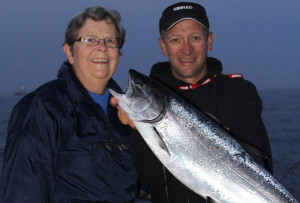 Are children allowed?
Absolutely! Children are welcome, and we love helping anyone catch their first fish! I'm the proud father of two girls who frequently join me on the water! They enjoy the whole experience… the ride out, catching fish, cleaning fish… all of it! Your kids will, too!
Are pets allowed?
No pets are allowed aboard the Reel Action fleet. While we are pet lovers, but even our own Black Lab (Belle) stays on shore when we go out fishing.
Accommodations
Does Reel Action recommend any hotels or restaurants in the area?
Sturgeon Bay, Door County, and Green Bay are all blessed with many fine hotels, bed-and-breakfasts, campgrounds, and restaurants. We will make recommendations based on your needs, but leave the final decision up to you! Costs and features will vary, but be sure to ask if we've heard of any good discounts… we may be able to help you, especially in the off-peak seasons.
Does Reel Action have a Facebook page?
You bet we do! It's at: Reel Action Facebook. We'd love to have you like our page and the post there before, during, and after your trip. Our very best references are your words, photos, and videos — and of course your smiling faces! Please tell your friends about Reel Action!
Contact Captain Scott Gutschow
For personal answers to your questions regarding Reel Action Charters and fishing on Lake Michigan and Green Bay, call Capt. Scott Gutschow at 920-360-2136. We want to help you come prepared to have the fishing trip of a lifetime, so please don't hesitate to ask us anything on your mind.